Super Greens
KONG and Pure are the King of the Super Greens
Moringa Health Moringa oleifera grown in the USA- The most nutritious plant ever studied, contains two important classes of compounds:
Kong Moringa Powder and Pure capsules contain:
RDA
Protein: 2 grams.
Vitamin B6: 19% of the RDA.
Vitamin C: 12% of the RDA.
Iron: 11% of the RDA.
Riboflavin (B2): 11% of the RDA.
Vitamin A (from beta-carotene): 9% of the RDA.
Magnesium: 8% of the RDA.
Full Nutritional make up:
Antioxidants:
Vitamin A
Vitamin C
Vitamin E
Vitamin K
Vitamin B (Choline)
Vitamin B1(Thiamin)
Vitamin B2 (Riboflavin)
Vitamin B3 (Niacin)
Vitamin B6
Alanine
Alpha-Carotene
Arginine
Beta-Carotene
Beta-sitosterol
Caffeoyquinic Acid
Campesterol
Cartenoids
Chlorophyll
Chromium
Delta-5-Avenasterol
Delta-7- Avenasterol
Glutathione
Histidine
Indole Acetic Acid
Indoleacetonitrile
Kaempferal
Leucine
Lutein
Methionine
Myristic-Acid
Palmitic-Acid
Prolamine
Proline
Quercetin
Rutin
Selenium
Threonine
Tryptophan
Xanthins
Xanthophyll
Zeatin
Zeaxanthin
Zinc
Anti-Inflammatories:
Vitamin A
Vitamin B1 (Thiamin)
Vitamin C
Vitamin E
Arginine
Beta-sitosterol
Caffeolquinic Acid
Calcium
Chlorophyll
Copper
Cystine
Omega 3
Omega 6
Omega 9
Fiber
Glutathione
Histidine
Indole Acetic Acid
Indoleacetonitrile
Isoleucine
Kaempferal
Leucine
Magnesium
Oleic Acid
Phenylalanine
Potassium
Quercetin
Rutin
Selenium
Stigmasterol
Sulfur
Tryptophan
Tyrosine
Zeatin
Zinc
Typical Nutritional Data
________________________________________________________________________
Macronutrients (per 100g)
Moisture (%)                                    7.5
Calories                                           205
Protein (g)                                        27.1
Fat (g)                                               2.3
Carbohydrates (g)                          38.2
Fiber (g)                                           19.2
Amino acids (g/16gN)
Arginine                                           1.33
Histidine                                           0.61
Isoleucine                                        1.32
Leucine                                            1.95
Lysine                                               1.32
Methionine                                        0.35
Phenylalinine                                   1.39
Threonine                                         1.19
Tryptophan                                        0.43
Valine                                                 1.06
Minerals (per 100g)
Calcium (mg)                                     2003
Magnesium (mg)                                 368
Phosporous (mg)                                204
Potassium (mg)                                1324
Copper (mg)                                       19.1
Iron (mg)                                              28.2
Zinc (mg)                                             3.29
Vitamins (mg per 100g)
Vitamin A - Beta Carotene                          16.3
Vitamin B1 - Thiamin (mg)                            2.6
Vitamin B2 - Riboflavin (mg)                       20.5
Vitamin B3 - Nicotinic acid (mg)                   8.2
Vitamin C - Ascorbic acid (mg)                   17.3
Vitamin E – Tocopherol acetate (mg)      113.0
Physical Characteristics
Appearance                                       Powder
Color                                                   Rich green
Flavor                                                  Tart
Allergens
This product is free of milk, eggs, fish, Crustacean shellfish, tree nuts, peanuts, wheat, soybeans and is gluten-free.
---
Sale
PURERx Moringa King of Superfoods
Sale price $52.00 Regular price $67.00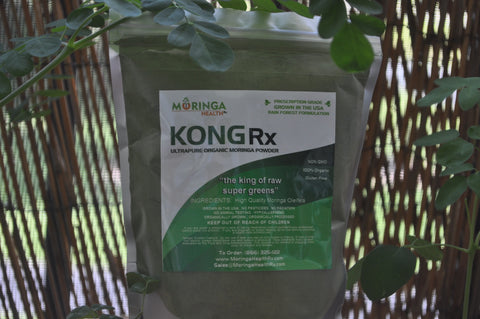 Sale
Sale price $44.50 Regular price $58.00